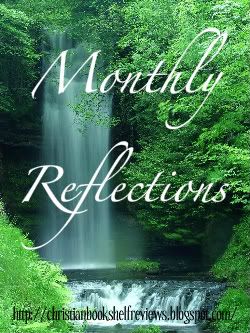 Monthly Reflections, where we take the time to reflect on the previous month.
My September Goals...
✓
Finish 14 books
✓

Including 7 NetGalley books
Books read:
My thoughts on September:
A good month of reading. While five of these books were very short, I'm still so happy to have gotten 16 books off my TBR -- no matter the page count!
Looking ahead:
My goals for October:
Finish 12 books
Post 6 reviews
I want to read at least 9 of the books below.
Books I'm hoping to read in October:
Very excited about all these books, but I especially can't wait to read Tim Hawkin's one, finish Lisa Bergren's Homeward trilogy, finally read Full Steam Ahead, and continue Andrew Klavan's MindWar trilogy!
If you want to do your own Monthly Reflections, feel free to grab the button and post about it on your blog, then leave a comment with the URL - otherwise, please share your thoughts in a comment!
Now it's your turn! What did you accomplish in September
, what do you hope to accomplish in October?