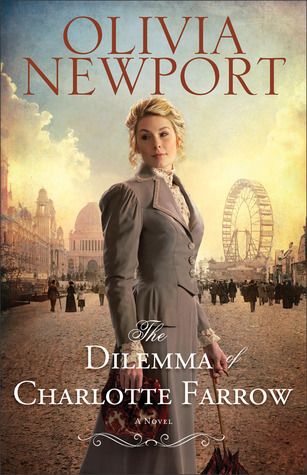 The Dilemma of Charlotte Farrow by Olivia Newport
Avenue of Dreams: Book Two
Revell / 2013
About the book:
The whole world is coming to Chicago.
Charlotte's whole world is coming down around her.
While the rest of Chicago focuses on the enormous spectacle of the 1893 World's Columbian Exposition, Charlotte Farrow's attentions are entirely on one small boy--her boy--whom she has kept a secret from her wealthy employers for nearly a year.
When the woman who has been caring for her son abruptly returns him to the opulent Banning home, Charlotte must decide whether to come clean and face dismissal or keep her secret while the Bannings decide the child's fate. Can she face the truth of her past and open her heart to a future of her own? Or will life's struggles determine her path?
This compelling story of courage, strength, and tender romance captures the tension between the glittering wealthy class and the hardworking servants who made their lives comfortable.
My rating:
My thoughts:
Having read (and loved!) The Pursuit of Lucy Banning last year, I was really looking forward to The Dilemma of Charlotte Farrow and it did not disappoint! I loved learning more about Charlotte Farrow (who was introduced in book one) and was surprised by quite a few things in her story.
The characters were great and even though I found one person very frustrating, it was in a good way. ;) I particularly liked Archie, which surprised me because at first I wasn't sure I'd like him, but as the story continued I realized what a wonderful guy he was. I also found it interesting and unique that both of the main characters in The Dilemma of Charlotte Farrow were servants.
Overall, I loved The Dilemma of Charlotte Farrow and recommend it if you like historical romances. I don't think it's necessary to read The Pursuit of Lucy Banning first in order to enjoy this one, but doing so will ensure you'll know more fully what had happened earlier in the Bannings' lives. Great read!
*I received a complimentary copy of this book for my review. I was not required to give a positive review, only my honest opinion - which I've done. All thoughts and opinions expressed are my own.*
"Available January 2013 at your favorite bookseller from Revell, a division of Baker Publishing Group."