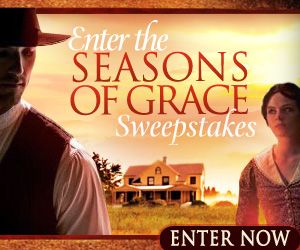 In bestselling author Lauraine Snelling's new novel,
To Everything A Season
, the tight-knit town of Blessing, North Dakota faces change and challenge at every turn.
In the middle of the maelstrom is young Trygve Knutson. He's devoted to his family and his community, but he sometimes dreams of other horizons--especially since meeting Miriam Hastings.
Miriam is in Blessing with one goal: to complete her training as a nurse, and get back to Chicago to support her siblings and her ailing mother. But the town of Blessing has a way of drawing in the most reluctant visitor, and soon Miriam's attachment to Trygve and his family has her questioning her entire future.
To celebrate the release of this heart-warming novel, Bethany House and author Lauraine Snelling are pleased to present the
SEASONS OF GRACE Sweepstakes
. This sweepstakes features three special prizes, each closely connected to the book: One prize to sweep you back into history, one prize to enable you to give to someone else, and one prize to help you celebrate a little of the story's romance, in your own home.
Timeframe & Notifications:
This giveaway
starts October 14, 2014
and
ends November 3, 2014
@ 11:59 pm (PST). Entry is open to US residents only, age 18 and over. Winners will be selected
Tuesday November 4, 2014
, and announced at
laurainesnelling.com
.
How to Enter:
Go to
http://www.laurainesnelling.com/html/giveaways.html
and complete the entry box, anytime between
October 14 and November 3
.