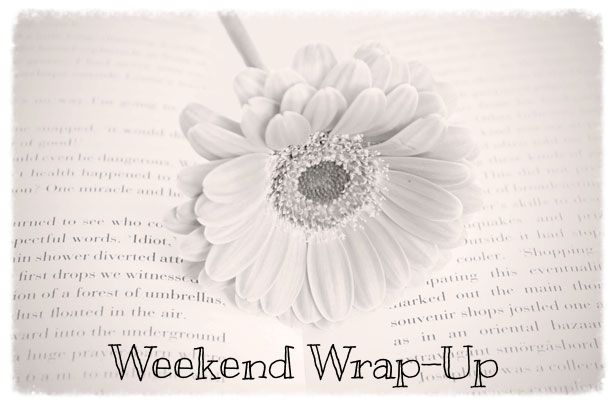 Weekend Wrap-up
is where I share what I read this past week, am currently reading, and hope to read this coming week, and (when applicable) the current giveaways/giveaway winners. Occasionally I'll post some other stuff as well. Be sure to follow my Pinterest boards "
Free Kindle Books
" and "
Book Deals
" to see the good deals/freebies I share about. :)
Feel free to join along and post your own
Weekend Wrap-up
on your blog/site
(if you do, please leave the link in a comment so I can stop by)
or, in a comment, share what you've accomplished (reading-wise) this past week. :)
What I've read this week:
I'm really happy with what I read this week! The first one was an audiobook read, which I was able to "read" even when I couldn't actually read. The second and third were review books. The last two were books I read for a team challenge I'm participating in; and, since this is the final week and I haven't posted the last book yet, I'm being mysterious about what it is here...lol. ;)
What I'm currently reading:
Deceived is so good! I'm eager to continue reading it. How To Communicate With Confidence is an interesting nonfiction read. I've only finish the first chapter, but it's good so far.
What I'll be reading next:
Would love to finish the fiction book I'm reading (above) plus these three books, but Deceived, Thunder, and A Time To Die are all pretty big books, so it'll be a challenge. ;)
Reviews posted this week:
"END OF SUMMER BIRTHDAY BASH" GIVEAWAY WINNERS:
Connie*
Jennifer*
Carl*
Patty*
Beth*
Lisa+
(
lmurnc@...)
Anita*
*Winner has claimed their prize
+Winner has been contacted and has until 10/7 to claim their prize
CONGRATS TO ALL THE WINNERS! I hope you all enjoyed the birthday bash, even if you weren't one of the winners. :)